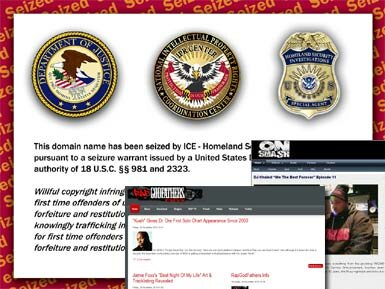 Hip Hop blogs shut-down from online world after being seized. Seems that hip hop blog websites OnSmash and RapGodfathers have been seized by ICE – Homeland Security Investigations and are reported to be under investigation.
According to
MTV
, the seizure occurred on Tuesday November 23rd for RapGodfathers whose servers were seized by the FBI. As for Onsmash, they claim that only their domain name has been seized.
Allegedly, both sites made claims that they complied with any DMCA (Digital Millennium Copyright Act) requests and the majority of the content was submitted by either the labels, management or the artists directly.
Meanwhile, MTV's RapFix has questioned the fate of the websites that belong to the New Music Cartel (NMC), that include a number of hip-hop blogs such as Nahright, YouHeardThatNew, amongst others.
As for RapGodfathers, the site has already relaunched under a new domain with the .info extension.
In other conversations across the web, everyone is talking about the Combating Online Infringement and Counterfeits Act (COICA, S.3804) which was just passed. As little as linking to a bit-torrent or a site with pirated information could have you banned and removed by the Justice Department with a court order. The goal is to shut down websites if copyright infringement is deemed "central to the activity" of the web site or blog.